Are you suffering from recurrent cases of fever? Suffering from pain during intercourse? It is about time that you get a medical checkup done for these are sure-shot signs of having a Bartholin Cyst.
What is a Bartholins Cyst?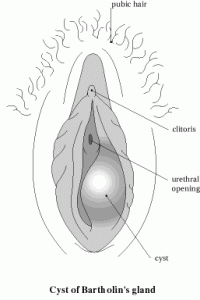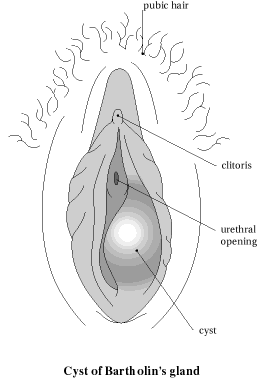 Picture 1 – Bartholin Cyst
Source – wastington
A Bartholin Cyst is a cyst or lump that is filled with pus. The cysts typically occur on only one side of the vaginal entrance. This a condition that happens to women.
These cysts can be found in women of young age as well as those above 40 years. But they are more commonly found in women of reproductive age. The disease is common in women who are in their twenties. About 2% of the population of women in the United States suffers from this condition every year.
Bartholin Cyst has been named after Caspar Bartholin, an anatomist of the late-1800s. He was the first medical professional to make a research about the existence and functioning of the Bartholin glands.
Bartholin Cyst Size
These are approximately of the size of a small pea in the initial stages. In the later stages, they can grow as large as a big marble. In a few cases they have been found to grow to the size of an egg.
Bartholin Cyst Location
Bartholin Gland Cysts are formed on either of the Bartholin Glands. They are tiny organs located close to the opening of the vagina of a woman. There are two Bartholin glands in every woman. These are positioned on either side of the vaginal opening. Bartholin Glands are also referred to as Greater Vestibular Gland or Vulvovaginal Gland.
A Bartholin Cyst arises from the Bartholin gland or from any of its ducts.
Symptoms of Bartholin Cyst
Generally, a Bartholin Cyst does not give rise to any symptoms. This is true especially when the lump is small and is not accompanied with any infection. Symptoms arise if it grows in size or if there is any Bartholin Cyst infection. An enlarged Bartholin Cyst can be felt as a compact mass or lump near the vaginal entrance. It can be characterised by
Tenderness
A Bartholin Cyst is generally painless. But it can make the sufferer experience tenderness near the vaginal opening.
Pain
If an infection develops near the cyst, the patient has a painful sensation in the affected area.
Discomfort
The person suffers from a discomforting sensation while sitting, walking and any similar activity that puts pressure on the genital area (vulva). In people with Bartholin Cyst vulva becomes very sensitive to pressure.
Dyspareunia
Women with Bartholin Cyst often experience pain while having sexual intercourse.
Fever
In patients with Bartholin Cyst fever is very common. High body temperature often arises because of this abnormal vaginal condition.
Causes of Bartholin Cyst
A Bartholin Cyst develops when a duct of the Vulvovaginal Gland gets blocked. An obstruction of vaginal gland typically occurs due to a bacterial infection. A bacterial infection causes unnatural conditions such as the abnormal growth of a flap of skin. Abnormal skin growth blocks the duct, or opening of the gland, and leads to a buildup of fluids in the gland. When fluid has accumulated for a long period of time, an abscess or cyst develops in the Bartholin Gland.
In many cases, Bartholin Cyst develops only in a matter of days. These get swollen and appear hot to touch.
Bartholin Cyst Diagnosis
A swollen and tender Bartholin's Gland is often diagnosed by a pelvic examination. Lab tests are also carried out to analyze any discharge from the vagina and check if there is a case of a sexually transmitted infection.
A biopsy is usually done if the sufferer is 40 years old or over. This is conducted to rule out the presence of a tumor. Postmenopausal women are often susceptible to tumors and cancerous conditions.
Bartholin Cyst Treatment
If the cyst is small and no symptoms are involved, no treatment is needed. But in case of an enlarged cyst or presence of infections and discomforting symptoms, medical treatment is necessary.
Antibiotics
In patients with Bartholin Cyst antibiotics are used to destroy the infection-causing bacteria. Antibiotic treatment is usually carried out if tests reveal an infection or a sexually transmitted disease as the cause of Bartholin Cyst.
Marsupialization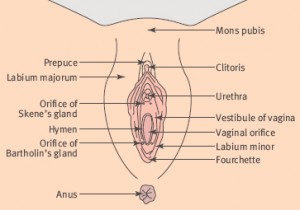 Picture 2 – Bartholin Cyst Marsupialization
Source – disease-picture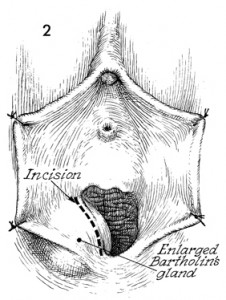 Picture 3 – Bartholin Cyst Removal
Source – disease-picture
If a person is suffering from recurring Bartholin Cyst Marsupialization becomes necessary. Marsupialization of Bartholin Cyst is a surgical process that involves making a slit on the cyst and stitching the edges of the incision. This creates a permanent opening that lets the cyst drain freely. The process is carried out in complicated cases where Bartholin Cyst removal becomes difficult and a single draining becomes ineffective. A doctor may also insert a catheter to promote draining for some days. This helps prevent recurrence of Bartholin Cyst abscess. Bartholin Cyst marsupialisation is quite easy and can even be performed in a doctor's office.
Marsupialisation of Bartholin Cyst is very useful in women who have repeated cases of abscess.
Surgery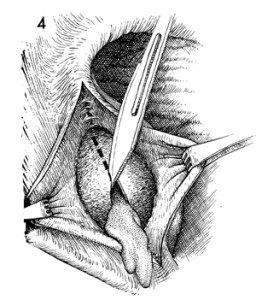 Picture 4 – Bartholin Cyst Drainage
Source – atlasofpelvicsurgery
In case of an enlarged or an infected cyst, it becomes necessary to carry out a Bartholin Cyst surgery. Surgery involves Bartholin Cyst drainage. An anesthetic or sedative is used on the patient and an incision is made on the cyst. A small catheter is placed near the incision to let the cyst drain completely.
Bartholin Cyst Recovery Time
The symptoms usually vanish after a surgery of Bartholin Cyst. Following operation of Bartholin Cyst catheter usually falls off after about six weeks. If it does not, a doctor manually removes it after six weeks. The incision heals by itself and the symptoms go away after Bartholin Cyst operation.
Bartholin Cyst Home Treatment
Here are some of the methods that are used for Bartholin Cyst natural treatment. If you are suffering from a Bartholin Cyst natural remedies like these can help a lot to make the symptoms go away.
Non-Prescription Painkillers
Non-prescription drugs are often used for Bartholin Cyst treatment at home. Painkillers reduce discomfort in case of a painful Bartholin Cyst.
Sitz Bath
For a patient with Bartholin Cyst bathing in warm water is very effective. It helps heal the Bartholin Cyst rupture and drain by itself. In the Sitz Bath method, the affected person has to sit in a tub filled a few inches with warm water. Doing this daily for three and four times for a few days can work as a Bartholin Cyst natural remedy.
Sitz Bath helps in Bartholin Cyst management after surgery. It is very useful in healing the affected area after a surgical operation.
Warm Towel Compress
If you are diagnosed with Bartholin Cyst, soaking the vulva (genital region) with warm towel compress can help a lot. It is one of the most effective Bartholin Cyst home remedies.
If the symptoms show no sign of going away even after 2-3 days of home treatment, it is time to get professional medical help.
Infected Bartholin Cyst
Sometimes, a Bartholin cyst gets infected and leads to the development of an abscess known as Bartholin's abscess. The common germs that can infect this kind of cyst include those that cause urinary tract or skin infections, such as Escherichia coli or Staphylococcus spp. A non-infected cyst of this type can be left alone. Infected ones, however, need to be treated with a course of antibiotics.
Bartholin Cyst and Cancer
Cancer or carcinoma of Bartholin's gland is quite rare in nature and is uncommon in females under 40 years of age. Around 1% of vulvar cancers are cancers of Bartholin's gland. It can be difficult to distinguish Bartholin's gland tumors from benign (non-cancerous) Bartholin's cysts.
Marsupialization of Bartholin Cyst
Marsupialization is an operative procedure that is often used to cure Bartholin cysts as well as pilonidal and pancreatic cysts. The technique involves making a slit in the cyst or abscess and sewing its edges to create a continuous surface from its exterior to the interior surface. It is used in cases where a single draining is not enough to remove structures surrounding the cysts completely.
Bartholin Cyst Drainage
A Bartholin cyst that is infected or very large in size requires surgical drainage. This can be done with sedation or local anesthesia. The process involves making a small incision in the cyst and allowing it to drain followed by placement of a small rubber tube known as catheter in the incised spot. The catheter is kept in position for a maximum period of 6 weeks to prevent the closure of the aperture and allow complete drainage.
Bartholin Cyst and Surgical Removal
If other medical options like sitz baths, antibiotics, drainage or Marsupialization fail to cure the cysts effectively, surgery may be recommended by physicians to remove the Bartholin gland for a complete cure.
Removal of a Bartholin gland cyst is a minor operative process and can result in bleeding. Naturally, it is best to be performed in a surgical setting. In rare cases, the duct as well as the entire Bartholin gland may be removed.
Will a Bartholin Cyst go away?
A Bartholin Cyst usually goes away after drainage or surgery. Recovery is generally complete. But cysts are seen to recur in 10% cases.
Bartholin Cyst Complications
Bartholin Cysts does not usually lead to any complicated condition. But in rare cases, a chronic cyst may develop in the Bartholin Vaginal duct. In postmenopausal women or those above 40 years of age, a swollen Bartholin Cyst can be a sign of a cancerous tumor. But it is only in very rare cases of Bartholin Cyst cancerous condition are seen to appear.
Bartholin Cyst Prevention
Maintaining safety standards like using condoms while having sex can prevent Bartholin Cyst development due to sexually transmitted infection.
Bartholin Cyst Images
Want to know what does a Bartholin Cyst look like? Here are some pictures of Bartholin Cyst. Check out these Bartholin Cyst picture and get an idea about the appearance of the disease.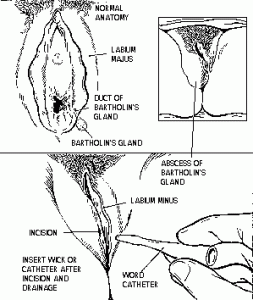 Picture 5 – Bartholin Cyst Picture
Source – ncemi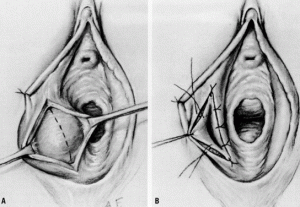 Picture 6 – Bartholin Cyst Image
Source – glowm
If you are having symptoms characteristic of this disease and home remedies offer no improvement, it is best for you to visit a doctor and have a consultation. If the physician suspects a complicated condition, a timely treatment can be carried out. This will save you from a lot of health worries in future and ensure your good health.