Is any of your near one having constipation problems and vomiting every now and then? Is he or she having abdominal cramps and finding it difficult to pass stool? Consult a physician immediately for these are signs of Paralytic Ileus.
Paralytic Ileus Definition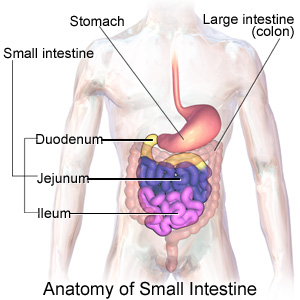 Picture 1 – Anatomy of Small Intestine
Source – ddccdn
What is Ileus Paralytic? Paralytic Ileus is a paralysis of the intestine. It is a complicated medical condition that is characterized by partial or total non-mechanical obstruction of the large or small intestine. This blockage occurs when the intestinal muscles suffer a paralysis. Even a partial paralysis that makes the intestinal muscles inactive is enough to cause this disorder. Such a state of inactivity makes it difficult for food to pass through the intestine. It creates an intestinal blockage and gives rise to serious complications.
Paralytic Ileus Signs and Symptoms
Like any other health condition, Paralytic Ileus is marked by the appearance of a number of symptoms. These Paralytic Ileus signs and symptoms include
Non-mechanical Intestinal Obstruction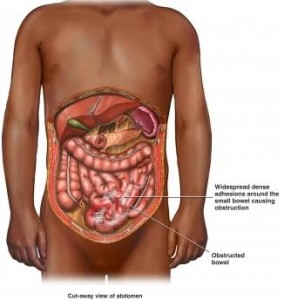 Picture 2 – Paralytic Ileus Symptom
Source – thirdage
An obstruction in the intestine stops Peristalsis, the rhythmic muscular contraction that helps movement of food material through the bowel.
Nausea
The affected person suffers from a nauseating feeling. This happens due to food materials that block the intestine.
Inability to Excrete or Pass Wind
The impaired functioning of the intestinal muscles makes it difficult to pass gas or stool. This is the cause of serious discomfort in affected people.
Abdominal Bloating
The failure to defecate and pass gas leads to bloating of the abdomen.
Vomiting
Intestinal obstruction commonly leads to vomiting.
Excessive Belching
The inability to pass gas forces the sufferer to belch every now and then.
Abdominal Distension
The buildup of food particles and gas also stretches the abdomen in suffering persons. Applying pressure on the abdomen can cause much pain.
Absence of Bowel Sounds
In people suffering from Paralytic Ileus bowel sounds are absent. No bowel sounds are heard on pressing a stethoscope to the abdomen. This happens because of absence of any bowel activity.
Rapid Breathing Rate
Respiration in affected people can become rapid because of excessive abdominal distension and toxicity in the intestine due to buildup of waste products. The hollow around the eyes sink and there is paleness around the mouth.
Paralytic Ileus Complications
Paralytic Ileus causes intestinal distension which can lead to an injury of the thin serosal membrane. It may also result in Ischemia or a local anemia in the abdominal region.
If a bowel blockage is not treated in time, it can result in serious complications. In the absence of timely treatment, Paralytic Ileus risk factors may include kidney failure, shock, dehydration and even death. Intestinal obstruction may also cut down blood supply to the affected tissue of the intestine and cause Necrosis (tissue death) or even Peritonitis.
How long does Paralytic Ileus last?
When Paralytic Ileus results from a recent abdominal surgery, it lasts for about 1 to 3 days. Paralytic Ileus post surgery is a common condition.
Paralytic Ileus Causes
Paralytic Ileus arises to diverse conditions. The causes of Paralytic Ileus usually include
Surgery
Recent abdominal surgery is the most common cause of this condition. This disorder often results as a side effect of an abdominal surgery. If an improper handling of the bowel causes Peristalsis to stop, paralysis of the intestine may occur. An intestinal paralysis that continues for more than 3 days after an operation is called Postoperative Ileus, Postoperative Adynamic Ileus or Paralytic Ileus. Paralytic Ileus often occurs after a major abdominal surgery. In the US alone, the condition appears in at least half of all patients who undergo a major surgery in the abdomen. Paralytic Ileus after surgery is a cause of concern for most doctors. The health of patients who have undergone recent intestinal surgery is closely observed for three or more days to check if the condition appears.
Drugs
Intestinal blockage can also arise from the use of certain drugs like Chymodiactin, Discase and Chymopapain. Cancer patients are also affected by this condition because of the use of some Chemotherapy medicines like Vinblastine and Vincristine.
Spinal Injuries
In a few cases of Paralytic Ileus spinal cord injury is found to be the reason. Injuries or trauma to the region around the spinal cord can also give rise to this disorder.
Inflammation
The condition may also arise in case of a swelling in the abdominal region that touches the intestines.
Kidney Disease
In a few cases of kidney disorder, the potassium level decreases leading to Paralytic Ileus.
Paralytic Ileus Diagnosis
The diagnosis of the condition usually begins with simple medical checkup. Physicians press stethoscope to the abdomen of the affected person and listens for any bowel sound. In the absence of any bowel sound, further tests may be carried out. Abdominal x-rays, Computed Tomography (CT) scans and Ultrasound tests may be done for confirmation of the Ileus. For detection of Paralytic Ileus X ray tests are often found to be very useful.
Bariumenema or Upper GI series can also be used to find out if the obstruction is mechanical. Blood tests may also be used for a proper diagnosis.
Paralytic Ileus Treatment
Paralytic Ileus should never be neglected. Patients with this condition are immediately hospitalized on detection of this condition. A nasogastric tube is inserted into the stomach through the nose. The bowel contents are sucked out.
In severe cases that involve a mechanical obstruction, surgery may be needed. Paralytic Ileus post surgery is generally completely cured.
The treatment of Paralytic Ileus aims at making the intestine capable of movement once again. Drug therapies are used to bring movement back in the intestinal muscles. Medicines like Vasopressin and Cisapride are sometimes prescribed for this purpose.
Intestinal distension can be treated by repeatedly performing Celiotomy or abdominal section. This compresses chronically dilated small intestine. Removing fibrinous adhesions is also useful in treating the condition.
Paralytic Ileus Management
Along with treatment, Paralytic Ileus is managed by a number of ways. Patients are advised a complete rest to ease the bowel. Patients are not fed through the mouth but through intravenous methods.
Lifestyle and dietary modifications are also advised after surgery for best effect. Foods that have low fat and high-fiber content are advised to the patient. Consumption of these foods can keep the bowel healthy and avoid Paralytic Ileus.
Paralytic Ileus Prognosis
The outcome of the syndrome depends on its cause and the method of treatment. Consequences and Paralytic Ileus recovery time vary according to the underlying cause, the time taken for diagnosis and the method that is followed for treatment.
Paralytic Ileus Prevention
It is not possible to prevent this condition. However, a surgery to remove a mechanical obstruction in the intestine can help avoid a recurrence of the syndrome in future. The condition can also be avoided with a healthy diet comprising of foods that are high in fiber and low in fat.
Paralytic Ileus is a very severe condition. Leaving it untreated can result in very severe situations and may cause even death. If you notice Paralytic Ileus in children or adults in your home, it is advisable that you seek immediate medical treatment. Timely cure can help you avoid a lot of future health complications and let you enjoy life with your family without a care.
References:
http://en.wikipedia.org/wiki/Ileus
http://www.wisegeek.com/what-is-a-bowel-obstruction.htm
http://emedicine.medscape.com/article/178948-overview
http://www.medterms.com/script/main/art.asp?articlekey=7886
http://www.wrongdiagnosis.com/p/paralytic_ileus/intro.htm