What is Placental Abruption?
Placental abruption is a pregnancy-related complication in which the placental lining separates from the uterus of expecting mothers. It is the most commonly occurring pathological factor responsible for late pregnancy bleeding. In human patients, this refers to the anomalous separation after twenty weeks of gestation prior to the birth. The disorder affects both the mother and the fetus and is a major contributor to the incidence of maternal mortality worldwide.
The condition is also referred to as abruptio placentae.
Placental Abruption Causes
The exact causes of this condition are not fully known. It is believed that abnormal blood supply within the uterus or the placenta may play an important role. However, the causes for the suspected abnormalities are not clear.
Some of the known factors behind the condition include:
Uterine decompression
Sudden loss of the amniotic fluid from uterus can cause suction of the placenta from the uterine wall. This is known as uterine decompression. It can be caused by the birth of first twins or multiple births and/or rupture of the amniotic membranes due to excessive amniotic fluids.
Abdominal trauma
A traumatic injury to the abdomen might tear the placenta from the uterine wall. Such injuries can be caused by a car accident, a fall or an assault.
Placental Abruption Risk Factors
There are a number of risk factors that can increase the propensity of a placental abruption. These include:
Diabetes
Multiparity
Hypertension
Pre-eclampsia
Alcohol abuse
Thrombophilia
Amniocentesis
Uterine fibroids
Certain infections
Maternal smoking
Abdominal trauma
Multiple pregnancies
Short umbilical cord
Cocaine intoxication
Uterine abnormalities
Retroplacental fibromyoma
Previous Caesarean section
Intrauterine growth restriction
Prolonged rupture of the membranes
Premature rupturing of the membranes
A previous instance of placental abruption
Polyhydramnious or excessive amniotic fluid
Medical procedures like amnioreduction and external cephalic version
Maternal trauma caused by motor vehicle accidents, falls assaults, or nosocomial infections.
Maternal age. Pregnant women younger than the age of 20 or even older than the age of 35 have a greater chance of suffering from this abruption
Placental Abruption Symptoms
This condition can lead to complications both for the mother and the baby. The various signs and symptoms of placental abruption are listed below:
Pallor
Early water breaking
Inertness of the baby
Pain within the uterus
Abdominal tenderness
Retroplacental clotting
Tender and/or hard uterus
Continuous abdominal pain
Occasional vaginal bleeding
Continuous pain in the lower back area
Fetal distress, such as abnormal heart rhythm
Possible disproportionate enlargement of the uterus
Painful sensations in the abdomen or belly whenever touched
Frequent uterine contractions without any intermediate periods of resting
Placental Abruption Clinical Manifestation
Placental abruption may be partial or complete. The condition is classified into a number of subtypes based on the symptoms and their severity.
Class 0
These are asymptomatic cases. Diagnosis is conducted by locating a proper blood clot or by studying a depressed area in a delivered placenta.
Class 1
These are mild conditions and comprise of a total of 48% of all placental abruption cases. The characteristic features include:
No fetal distress
No coagulopathy
Slightly tender uterus
Normal maternal heart rate and BP
No vaginal bleeding or maybe mild vaginal bleeding
Class 2
These are moderate abruptions that represent nearly 27% of all cases. Features include:
Fetal distress
Hypofibrinogenemia
None or possibly moderate vaginal bleeding
Maternal tachycardia, along with orthostatic changes in heart rate and BP
Moderate to severe uterine tenderness along with probable tetanic contractions
Class 3
These are severe abruptions comprising around 24% of all cases. Characteristics include:
Fetal death
Coagulopathy
Maternal shock
Hypofibrinogenemia
Quite painful tetanic uterus
No vaginal bleeding or heavy vaginal bleeding
Placental Abruption Diagnosis
While diagnosing placental abruption, the doctor will first conduct a thorough physical examination of the pregnant woman and study her previous medical history to see if there were any previous instances of placental rupture. He or she will then conduct any or all of the following tests:
Pelvic exams
Platelet count
Fibrinogen levels
Prothrombin time
Vaginal ultrasounds
Complete blood count
Abdominal ultrasound
Partial thromboplastin time
Monitoring of the fetal heartbeat
Internal examination of vagina and cervix by using a speculum
Placental Abruption Differential Diagnosis
The differential diagnosis of abruptio placentae includes isolating its symptoms from similar signs produced by the following health conditions:
Vaginitis
Vasa previa
Preeclampsia
Ovarian Cysts
Preterm labor
Placenta Previa
Ovarian Torsion
Acute appendicitis
Ectopic Pregnancy
Pregnancy Trauma
Hypovolemic Shock
Hemorrhagic Shock
Blunt Abdominal Trauma
Labor accompanied by bleeding
Disseminated Intravascular Coagulation
Placental Abruption Treatment
Doctors suspect a placental abruption when a pregnant women experiences sudden local abdominal pain that is either accompanied or not accompanied by bleeding. The fundus might be monitored as a rising fundus is indicative of bleeding. Ultrasounds might be conducted to rule out the possibility of a placenta praevia, although it is not the diagnostic proof of an abruption. A physician might prescribe Rhogam in case the patient is Rh-negative.
Treatment modes will depend on the severity of blood loss as well as the condition of the fetus. It may include administration of intravenous fluids and blood transfusions. If the age of fetus is less than thirty-six weeks, and neither the mother nor the fetus is experiencing any problems, the doctor would simply monitor the fetus closely in the hospital until it reaches maturity or any changes in fetal condition can be observed. The fetus may develop abnormal heart rates or the mother may experience symptoms of shock, both of which should be treated immediately.
The fetus may need to be delivered immediately in case the mother or the fetus is in distress or the fetus has reached maturity. Emergency cesarean section might be needed in such cases. Blood volume replacement for maintaining blood pressure as well as blood plasma replacement for maintaining fibrinogen levels might become necessary. A vaginal birth is generally preferred over a caesarean section as long as there are no signs of fetal distress. Caesarean sections are contraindicated in disseminated intravascular coagulation cases. The mother might be kept in hospital for a close observation for any signs of postpartum hemorrhage if the baby is premature and there were only signs of miniature placental separation. Hysterectomy might be necessary in case of excessive bleeding from the uterus. The mother is released after a few days in case there are no signs of bleeding and there are no adverse health issues in the mother.
Placental Abruption Complications
Excessive blood loss can eventually lead to shock as well as cause death of the baby or the mother. If bleeding continues to occur after delivery and the blood loss cannot be controlled, the mother may require a hysterectomy. Other complications that might ensue from a placental abruption include:
Stillbirth
Premature birth
The need for blood transfusion
Deprivation of nutrients for the baby
Renal failure or failure of other organs
Disseminated intravascular coagulation (blood clotting problems)
Reduced oxygen flow to the baby which could result in brain damage
Placental Abruption Prognosis
The outcome for the disorder depends on the following factors:
Whether the patient has received treatment
The quality of the treatment received
The severity of abruption
Maternal deaths caused by placental abruption are rare in the Western countries. Prognosis for the fetus is much worse; nearly 15% of fetuses in UK have been known to die following an abruption. Without any medical intervention, as it happens in different parts throughout the world, abruptio placentae have a high rate of maternal mortality. The conditions that might increase the risk of fatality for both the baby and the mother include:
No labor
Closed cervix
Excessive blood loss
Delayed diagnosis and medical intervention
Concealed uterine bleeding during pregnancy
Placental Abruption Prevention
Although the potentiality of a placental abruption cannot be completely eliminated it can, however, be reduced. During her months of maternity, a pregnant woman should avoid taking any form of:
Alcohol
Tobacco
Non-prescribed medicines
Cocaine
Other street drugs
She should also avoid any hectic activity that can cause serious physical trauma. For example, while traveling by a car, she should wear a seatbelt and avoid any possibility of falls. Women suffering from high blood pressure (hypertension) or who have previously experienced a placental abruption but want to conceive should be closely monitored by a doctor. The risks of a placental abruption can be further reduced by sticking to a good, healthy diet that includes folic acid. Symptoms of pregnancy-induced high blood pressure should be checked by consulting with a doctor. If there are other serious conditions like diabetes, they should be managed as well under close medical supervision.
Placental Abruption Pictures
These pictures will give you a clearer idea of what happens during a placental abruption.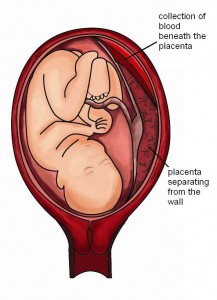 Picture 1 – Placental Abruption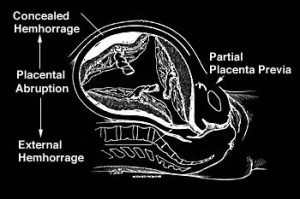 Picture 2 – Placental Abruption Image
Placental abruption often leads to serious birth-related complications for and even death both a mother and her fetus. Thus, timely medical treatment is essential to facilitate proper management of the complications and allow affected mothers to have a proper delivery.
References:
http://www.betterhealth.vic.gov.au/bhcv2/bhcarticles.nsf/pages/Placental_abruption
http://www.nlm.nih.gov/medlineplus/ency/article/000901.htm
http://www.mayoclinic.com/health/placental-abruption/DS00623
http://en.wikipedia.org/wiki/Placental_abruption