Thinking of going for a Wrist Piercing? Read on to get complete Wrist Piercing information. Know how to get a Wrist Piercing and how to look after the pierced spot properly after perforation.
How To Get Wrist Piercing?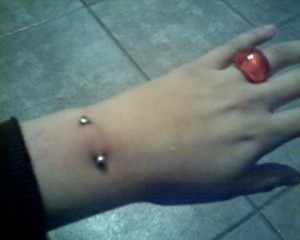 Picture 1 – Wrist Piercing
Source – photobucket
A Wrist Piercing can be carried out in a reputed body piercing parlor. Fix up an appointment with any good parlor in your locality. Try to know from your friends if it provides good services. You can also visit the parlor yourself to check the services. Fix up an appointment if you are satisfied with the services.
Turn up at the exact hour on the right day. This will help you get complete attention of a professional piercer.
You will have to sign a form expressing your consent about getting the piercing. You may also have to show a valid document as your identity proof. Do not forget to carry one.
Once this is done, the piercer will give you a brief idea about the process. You will also have to choose a jewelry for the pierced spot in case you have not bough one.
The actual piercing begins after you have chosen the jewelry. The piercer will shave the spot on the wrist to be perforated to remove all traces of hair. Then the area will be sterilized with an antiseptic solution to prevent infection after piercing.
Once the area dries, the piercer will mark the entry and exit spots of the needle. It will probably be fixed with a skin clamp.
A sterilized needle will then be passed through the marked spots and the jewelry will be immediately inserted into the hole. The area will be again cleaned with a disinfectant. The spot will be possibly covered with a bandage to protect it from dirt and germs.
You will be provided with aftercare instructions, either verbally or in the form of a leaflet.
Wrist Piercing Aftercare
Once you are through with the Wrist Piercing session, you need to care for it properly. Wrist Piercing aftercare involves salt water soaks clearing away the crusts and avoiding injuries to the area.
Salt Water Washes
Mix a tsp of salt with 8 ounces of water and heat this to make a warm saline solution. Soak a small cotton pad with a little of this solution and rub it gently against the pierced spot for a few seconds. Throw it away and repeat the process with another fresh cotton ball. The session must last for at least 5 minutes. The salt water washes should be carried out at least twice every day for a month after piercing. The heat of the solution will restore blood flow to the region while the salt will keep it disinfected.
Antiseptic Washes
You can also wash the perforated area with a mild antiseptic solution for 3-4 weeks after piercing. This will prevent bacterial infection in the region.
Avoid Injuries
Do not play with the jewelry on your pierced spot or injure it in any way. This can lead to rejection or migration of the spot and cause serious physical discomforts apart from ruining the piercing.
How Much Does Wrist Piercing Cost?
How much does a Wrist Piercing cost? This is one of the common Wrist Piercing questions that come up on the mind of would-be piercees. The average cost of Wrist Piercing is somewhere from $60-$100. But the actual Wrist Piercing prices depend on where you get it from. A reputed body piercing parlor will charge more from you though you can expect the process to be carried out safely.
Wrist Piercing Jewelry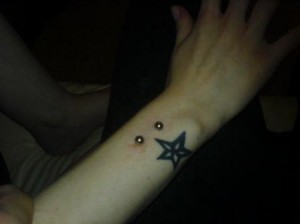 Picture 2 – Wrist Piercing Image
Source – justpiercings
A Wrist Piercing jewelry is a special ornament that prevents the risk of rejection and migration. Barbells and Surface Wrist Piercing Bars made of materials like Teflon or Tygon are used in the initial as well as later stages. Most piercers recommend titanium jewelries as they are less likely to cause irritation due to absence of nickel in them.
Does Wrist Piercing Hurt?
Wondering how much does a Wrist Piercing hurt? Wrist Piercing pain is much less than in other types of perforations. This is because the skin of hand is less sensitive than in regions like the eyebrow, ears or navel. That said, piercing your wrist can hurt quite a bit if you have a low tolerance for pain. If your pain threshold is not too high, you should give this step a miss.
Wrist Piercing Risks
The main dangers from this body piercing are Wrist Piercing Infection, Wrist Piercing Rejection and Wrist Piercing Migration.
Wrist Piercing Infection
An infected Wrist Piercing gives rise to redness and swelling in the region in the initial stages. In later stages, there can be abscesses in the area. The vesicles may release pus from time to time. Infection in a pierced wrist usually results from a Wrist Piercing gone wrong. Lack of Wrist Piercing care also causes bacterial infection in the wrist.
Wrist Piercing Rejection
Using an incompatible jewelry is the main reason for Wrist Surface Piercing Rejection. If the jewelry used in the pierced area contains a metal that gives rise to allergic rashes in the skin surface, the body pushes it out. Eventually, the jewelry falls out leaving a Wrist Piercing scar in the region.
Wrist Piercing Migration
Wrist Piercing migration occurs due to many reasons. Injuring the pierced area is a common cause of this problem. Many people have the bad habit of playing with the jewelry in a perforated spot which injures the area and makes the wound fresh. This often makes the pierced spot sift from its original location and settle somewhere else taking the jewelry along with it.
How Long Does It Take To Heal ?
A pierced wrist can take anywhere from 2 – 6 weeks to heal. But in case of problems like infection, Wrist Piercing healing time can be much more.
Wrist Piercing Pictures
Want to know how a pierced wrist looks like? Check out these Wrist Piercing images. These Wrist Piercing pics will give you an idea how you will look with a decorated wrist.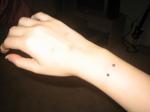 Picture 3 – Wrist Piercing Photo
Source – 43places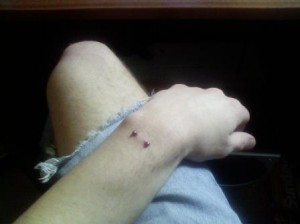 Picture 4 – Image of Wrist Piercing
Source – justpiercings
If you are keen about a Wrist Piercing, do not settle for a cheaper option. A good parlor may charge you more but you can be more or less sure about the quality of the services and the safety standards. Safety ensures the success of the piercing and makes the process enjoyable for you, while during the session and also after it.
References:
http://www.ehow.com/how_2125407_wrist-piercing.html
http://www.healthandnutritiontips.net/wrist_piercing/wrist_piercing.html
http://hubpages.com/hub/Surface_Piercings
http://www.enotes.com/topic/Wrist_piercing
http://www.funadvice.com/q/wrist_piercings