What is Amitiza?
It is the brand name for a medication that belongs to a class of medicines known as 'Chloride Channel Activators'. It is available as capsules of strength 8 mcg and 24 mcg.
Amitiza Uses
The drug is used to cure cases of chronic constipation in grown-ups. In women, it is also used to cure Irritable Bowel Syndrome (IBS) along with constipation (which is the main symptom). The medicine is also useful in curing Chronic Idiopathic Constipation.
Amitiza Manufacturers
The drug is manufactured by
Sucampo Pharmaceuticals, Bethesda, MD  and
Takeda Pharmaceuticals America, Inc., Deerfield, IL
How Does Amitiza Work?
The mechanism of Amitiza is simple. It increases the secretion of fluids in the intestines which increases the movement of muscles, thereby allowing more easy passage of stools and aiding in bowel movements. It helps improve symptoms like abdominal discomfort and bloating. It improves the texture of stools and reduces the need to strain during bowel movement.
Amitiza Dosage
In case of treatment of Chronic Idiopathic Constipation (CIC) in adults, 24 mcg of the drug should be orally taken in every day with food and water. The dosage should be 16 mcg for two times every day for patients with mildly impaired hepatic function. The recommended dose is 8 mcg, for two times daily, for sufferers of seriously impaired hepatic function.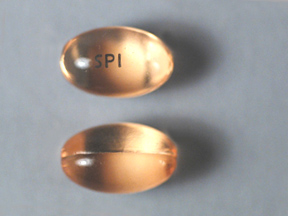 Picture 1 – Amitiza
The drug should be swallowed whole and never broken or chewed. The medicine should be taken regularly and at the same time every day, to get maximum benefit from it.
The drug should be stored between 59-86 F (15-30 C).
Amitiza Side Effects
The drug is not recommended for everyone. If you suspect or are aware of an intestinal obstruction, you should not take the medicine. The drug should not be used if you have diarrhea. Consult your healthcare provider to determine your condition before you use the medicine. If you have liver problems, consult a physician before using the drug. It is always advisable to consult a medical professional before you take the drug in case you have a medical history of any of these conditions:
Crohn's disease
Diverticulitis
Gallstones
Hernia
Hirschsprung's disease
Impacted bowel movement
Intestinal obstruction of any type
Polyps
Common Side Effects
Some of the common side effects of this medicine include:
Diarrhea
Nausea
Shortness of breath
Tightness in chest
Generally, these physical problems resolve within 3 hours. However, these may recur if the drug is used repeatedly. It is important to seek medical attention on an emergency basis f you are suffering from diarrhea or severe vomiting.
The medication may give rise to allergenic reactions like:
Breathing difficulties
Hives
Inflammation in various body parts, such as face, tongue, throat or lips
You should stop using Amitiza and immediately call a doctor if you are experiencing any of these symptoms. You may contact FDA at 1-800-FDA- 1088 to report of side effects.
Less Common Side Effects
Some of the less common side effects of this medicine include:
Loss of appetite
Abdominal pain
Gas
Bloating
Dizziness
Anxiety
Cough
Sore throat
Cold sweats
Pain in muscle or joints
Dry mouth, urinary tract infections, palpitations, peripheral edema (inflammation of the limbs) and syncope (fainting) are some of the rarer side effects of this medicine.
Nausea, headache and diarrhea are common symptoms arising due to the intake of 24 mcg Amitiza twice every day. Nausea, abdominal pain and diarrhea are the common problems experienced after use of this medication of strength 8 mcg.
Consult your doctor and have a clear discussion about the diet plan and workout regimen that you should follow to get the most benefit from this drug.
The side effects of this medication are not experienced by everyone. Most patients are found to tolerate the medicine quite well. Even if side effects do occur, they are minor in most cases. They either do not require medical treatment or can be easily cured by a professional healthcare provider.
Amitiza and Pregnancy
If you are pregnant, do not take this medicine without having a consultation with your doctor. The drug may cause harm to the fetus and risk your pregnancy. If you find yourself becoming pregnant while being treated with this medicine, consult your doctor to discuss whether the same medicine should be continued for treatment. There is no clear information whether or not this medicine can pass into a mother's milk and cause harm to a newborn. Naturally, it is better to be safe than sorry. You should also refrain from administering this medicine to a child.
Amitiza Overdose
If you have too much of this medicine you should seek medical attention on an immediate basis. The overdose symptoms of this medication may involve:
Diarrhea
Dizziness
Fainting
Headache
Hot flashes
Pale skin
Stomach pain
Breathing troubles
Vomiting
If you miss a dose of this drug, take it as soon as you remember. If the time for your next dose is near, take the medicine at that time only and skip taking it when you remember about missing the dose. Never take extra medicine to make up for the dose you missed.
Amitiza Interactions
This drug may interact with a few other over-the-counter and prescription medicines. These include:
Minerals
Vitamins
Herbal Products
Medications prescribed by other physicians
If you are thinking of starting a new medicine, consult your doctor before actually doing so.
Generic Amitiza
Amitiza is known by the generic name of 'Lubiprostone.' It is recommended for the treatment of Chronic Idiopathic Constipation or long-term constipation arising due to unknown causes in men and women. It is also used for curing Irritable Bowel Syndrome (IBS) along with constipation in women.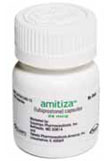 Picture 2 – Amitiza Image
As of now, no generic version of the drug is available. It is only after July 2014, when the current patent for Amitiza expires, that one can hope to find a generic version of the medicine to be available in the market.
Amitiza Price
Without medical insurance, the drug costs around $200 every month. With insurance, it is available at $150 per month. The medicine was approved by the FDA in the middle of 2006. It is by far the only drug of its kind to get approved in the U.S. Naturally, it is an expensive medication.
References:
http://irritable-bowel-syndrome.emedtv.com/amitiza/amitiza.html
http://www.drugs.com/amitiza.html
http://www.rxlist.com/amitiza-drug.htm
http://www.medicinenet.com/lubiprostone/article.htm